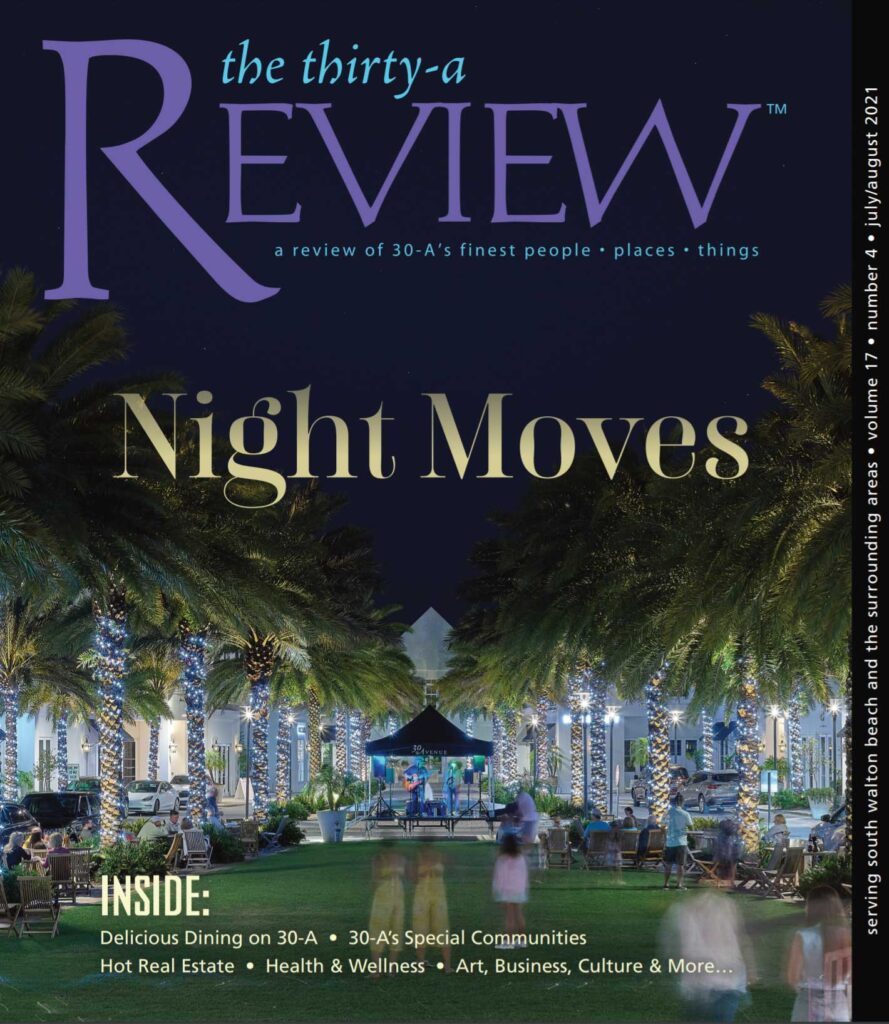 Reprinted with permission from the thirty-a Review.
Slow down. Breathe. Enjoy.
Why 30Avenue is your 'gateway' to everything Florida's Gulf Coast has to offer
by Michael J. Pallerino
There is a magical, almost mystical beauty behind the fountains that introduce visitors to 30Avenue, the outdoor lifestyle center that offers an unparalleled mix of boutiques, shopping, dining, and professional services. Known as the "Gateway to 30A®", the center sits at the intersection of Highway 98 and Scenic Highway 30A in Inlet Beach, just walking distance to the Rosemary, Seacrest, and Alys beaches.
The fountains, strategically positioned in every corner of 30Avenue, are a key element in the center's design a nod to the sound and beauty of the movement of water. To complement the fountain's allure to your senses, the white stucco building design reflects the area's white sand beaches and palm-tree lined drives. developers Tina and Bryan Corr say the visual representation is designed to tell visitors, "You've arrived at the beach… slow down, breathe, enjoy."
In 2013, during a casual conversation with friend and architect Darrell Russell, principal at A BOHEME Design, the Corrs discussed the need for office space where locals looked forward to going to work. They envisioned a place that was within walking distance of people's homes—one that reflected everything residents loved about living on 30-A. Taking in the conversation, Russell offered to host a collaborative session featuring experts who could help define the look and feel of what they all envisioned would be 30-A's premier outdoor lifestyle center. One week later, the 30Avenue concept was conceived.
"What began as a solution to a need that we personally had, 30Avenue has become all that and more," Tina
says. "The predominant goal was to provide a space that feels good, is comfortable, entertaining, offers unique shopping, premier dining, professional services and, above all else, serves as a beautiful reflection of everything 30-A has to offer. We envisioned an introduction of sorts, built on Highway 98, but a sincere
snapshot of what you will experience once you enter 30-A."
The Corrs say the 30Avenue's design has always been geared to attract the best in class for whatever specialty or business that locates here. With the fountains serving as the soundtrack of the center's lifeblood, 30Avenue's stone paved sidewalks, central green area for relaxing, majestic palm trees, and generous parking is the perfect place to shop, dine, or hang out. "Selecting the perfect mix of local businesses to partner with helps to make sure our goals are aligned," Tina says. "Having unique restaurants, services, and retail with little or no overlap in offerings gives patrons an opportunity to experience something different with each visit; or they can spend an entire day exploring the shops and dining in our top-rated restaurants."
Summer sun, something's begun…
As locals and visitors alike start to set their mindsets to life beyond the past year's challenges, 30Avenue is set to rekindle its magic in helping create memories to last a lifetime. "We're looking forward to a fun-filled summer at 30Avenue," says Marketing Coordinator Stephanie Madden.
For example, Monday night will feature bocce ball games on the green, while 6 p.m.-9 p.m. on Thursday and
Friday evenings host live music and a number of in-store events that promise to include a number of exclusive experiences. In addition, guests have the opportunity to listen to live music while they dine and shop Monday-Saturday, thanks to the 11 a.m.-2 p.m. concert series. On holiday weekends, those times and events will be expanded.
The goal is to have 30Avenue be at the center of everything for family, friends, wedding parties or just an
Instagrammable moment near a fountain. To help celebrate the moment, guests are encouraged to visit one
of the many great restaurants, including a fast casual treat at 30A Burger, Goatfeathers Seafood Cafe, Barbacoa, Great American Cookies, Decadent Coffee & Dessert Bar, and Marble Slab Creamery; or some fine dining at Cuvee 30A, amici Mexican Kitchen, and amigos Italian Kitchen.
"It's difficult to identify a favorite haunt," Tina says. "That honor depends on the taste you are craving."
To help promote everything and anything 30Avenue, Madden says 30Avenue is collaborating with
local influencers and bloggers, including hosting a number of social media contests that promise to spread
the word.
"Our No. 1 goal for the summer is to continue to host thousands of guests and provide them with a
beautiful, safe, and entertaining setting," Tina says. "We want each of them to enjoy their time with friends and family, to be able to laugh, dine, shop, and discover the service they need."
So, if you're going to get a little sand between your toes, the Corrs have the perfect place for you. Just set
your sights on the intersection of highway 98 and 30A— your gateway to a truly Florida experience.